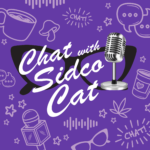 Welcome friends, it's Catherine Sidman, @Sidco_Cat and this is my podcast. As a cannabis industry professional for the last decade, I have unique access to the experts, entrepreneurs and enthusiasts who make this industry great! Join me and my guests as we dive into the people, processes and products that make up this wild ecosystem of cannabis, psychedelics and emerging medicines.
I meet so many great people along the way and Bob Johnson from Custom Capsule Consultants is no exception. We met in Denver at the Psychedelic Science Conference in 2021. I was with a great panel and taking questions when Bob raised his hand asked a charming question and then announced "I also have samples for anyone after the discussion" and he delivered. Bob and his team had cute zippered pouches full of pillow packs of supplements ranging from CBD and some minors to herbal supplements and mytragynine extracted from Kratom. Later that day, we went across Denver to the very first Oakland Hyphae Pop up event which was fantastic.
You know I love Label My bud for what they do for a business. They take your logo and your offering and the wrap it in packaging and swag that communicates a message to your customers. Bob and his team at Custom Capsule Consultants is another "wind beneath your wings" type of company. His specialty is encapsulating your beautiful product or recipe in a precisely dosed consumption vehicle.
Gel capsules are shelf-stable, convenient and familiar to consumers. As I have worked more closely with Custom Capsule Consultants, I have been impressed with the communication, and all the details like color and size selections, packaging and bulk options, vegan alternatives and the nitty gritty deal breakers like minimums, pricing and lead times. Bob is here to do business and he is supremely easy to work with.
Bob was moderating a panel recently at the Oakland Psychedelic Conference. During the Q and A time, Reggie came out of the audience, and took the mike to acknowledge some special people. He thanked Bob and Custom Capsule Consultants for being so generous as a sponsor of the Oakland Hyphae in person events. It was great to see Bob get recognized for his support of so many large and small supplement makers. If you haven't checked out Hyphae Nootropics great Cordyceps and Lion's mane supplements, get to Oaklandhyphae510.com and look in their shop. And if you have a product that needs to get wrapped up in a few thousand gel cap hugs, Bob is your guy. Reach out to him and see how he can help you deliver your product to consumers. Enjoy this conversation with my friend and colleague Bob Johnson from Custom Capsule Consultants.