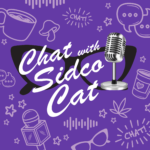 Welcome friends, it's Catherine Sidman, @Sidco_Cat and this is my podcast. As a cannabis industry professional for the last decade, I have unique access to the experts, entrepreneurs and enthusiasts who make this industry great! Join me and my guests as we dive into the people, processes and products that make up this wild ecosystem of cannabis, psychedelics and emerging medicines.
What I am presenting to you today is not medical advice. No way! I am not a doctor. Is this therapy for you? You need to see a medical professional to tell you that. I spoke with a Nurse in the field recently who told me that in her experience, this doesn't work for everyone, but when it works, it really works well. She also underlined that the key to the positive therapeutic affects is in the complete therapeutic experience with structure built around the pre, during and post ketamine experience. Today I bring you an interview with Charles Patti, who will share his experience with Ketamine therapy. Charles is not a doctor and nothing that he shares is meant to be medical advice. I learned about Charles Patti and MySelfWellness during my time in Miami at the Cannadelic Conference. Big shout out to Nurse Colleen and Pete for such a groundbreaking event. I met a ton of people who are doing such good work in this space. I am so excited to bring their stories. Charles Patti has one of those stories that is too good not to share. From a lifetime of addiction, depression, anxiety and fear to breakthrough wellness, his story is one that I resonate with on so many levels. For Charles, the turning point was a series of recreational psychedelic experiences that culminated in a passion for sharing this magical medicine with others. Charles and his team at MySelfWellness provide ketamine assisted psychedelic therapy to clients from their Day Spa-like center in Bonita Springs, Florida. I got a little peak into their facility and team by watching their pre-released documentary Lighter: A Ketamine Experience. Coming to a platform near you soon, this film takes you through the process and experiences of real people experiencing relief from chronic pain, anxiety, depression, addiction, OCD and other chronic, debilitating conditions. In as few as a half dozen sessions over a couple of weeks, lives are changed and rearranged into positive, healthy people ready to take on the rest of their lives. This therapy is on the cutting edge of treatment and what is fascinating is that it is with a medication, Ketamine, that has been approved for use in children for decades. Ketamine is an extremely safe anesthetic at higher doses, and we discuss both its dissociative and psychedelic actions. Is this medical advice? No way! I am not a doctor. Is this therapy for you? You need to see a medical professional to tell you that. Listen in as Charles shares both his personal and professional experience with this powerful medicine. As you listen, keep in mind what my smart nurse said, "It is the structure and integration support from a therapist that results in these success stories." If you seek relief in this way, I hope you seek support from people equipped to support you along the way. There are clinics providing this therapy across the country. Some of them even take insurance under certain circumstances. With all psychedelics, consider starting with the Fireside Project App. The Fireside Project App is a free, peer-support resource for people before, during and after a psychedelic experience. Download the app before you need it. Look for the orange flame icon. Also a great resource for trip sitters to have ready to go. Get it now on the Google play store or apple store. You can also text 62-fireside. That is 623-473-7433 to get started with this free, live, peer-to-peer psychedelic support service. This is not an authorized endorsement, just sharing a wonderful community resource. Learn more from them directly on their website firesideproject.org.
Without further commentary, please enjoy this interview with Charles Patti, from MySelfWellness.